NOVEMBER 7, 2017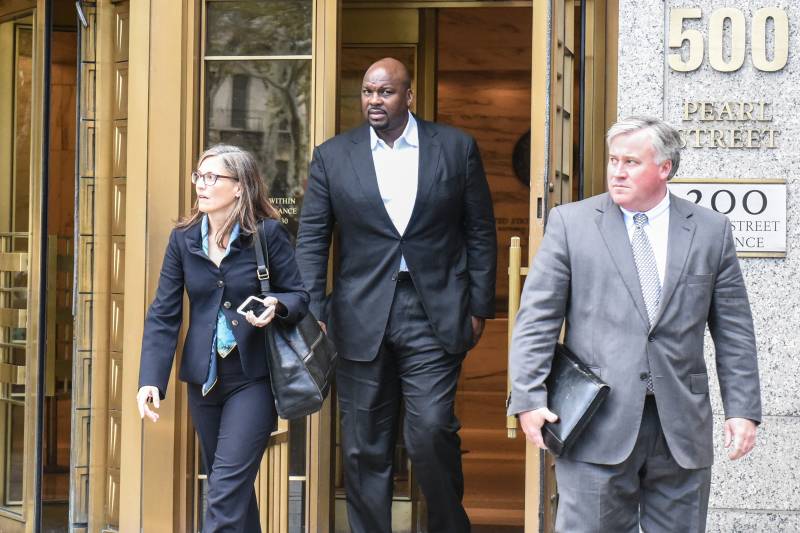 Stephanie Keith/Getty Images
Suspended Auburn Tigers assistant coach Chuck Person and Rashan Michel have been indicted after they were arrested in September as part of the FBI's investigation into corruption and bribery in college basketball.
ESPN.com's Jeff Goodman relayed word from Department of Justice spokesman Nicholas Baise on Tuesday confirming the two had been indicted. Citing a source, Goodman added indictments for the eight other individuals arrested as part of the probe are forthcoming.
Yahoo Sports' Dan Wetzel first reported Nov. 3 that all 10 men arrested as part of the investigation would be indicted this week.
According to Wetzel, "the charges are but a formality but would negate the need for a Nov. 9 preliminary hearing in New York scheduled last month by Judge Katherine Parker."
Person—who has been suspended indefinitely without pay by Auburn—was charged with six federal crimes following a three-year investigation by the FBI.
According to the Montgomery Advertiser's Matthew Stevens, Person allegedly "received $91,500 in bribery payments in a scheme to steer two unnamed Auburn players to certain agents and financial advisers," while Michel "agreed to accept approximately $50,000 in bribe payments from an undercover federal agent."
Since leaving his post as an NBA referee, Michel has become well-known for his custom clothing company that often works with professional athletes.
The other men named in the FBI's investigation are Oklahoma State assistant Lamont Evans, Arizona assistant Emanuel Richardson, USC assistant Tony Bland, Adidas executives Merl Code and James Gatto, financial adviser Munish Sood, AAU coach Jonathan Brad Augustine and athlete adviser Christian Dawkins.
_____________________________________________________________
Here are a summary of the indictments which were announced by the U.S. Attorney's Office for the Southern District of New York on September 26.
*                *                *
Defendant
Age
Hometown
Charges (Potential Maximum Term of Imprisonment)
Chuck Connors Person

53
Auburn, AL
Bribery conspiracy, Solicitation of bribes, Honest services fraud conspiracy, Honest services fraud, Wire fraud conspiracy; Travel Act conspiracy (80 years)

Rashan Michel

43
Smyrna, GA
Bribery conspiracy, Solicitation of bribes, Honest services fraud conspiracy, Honest services fraud,

Wire fraud conspiracy; Travel Act conspiracy (80 years)

Lamont Evans

40
Stillwater, OK
Bribery conspiracy, Solicitation of bribes, Honest services fraud conspiracy, Honest services fraud,

Conspiracy to commit wire fraud; Travel Act conspiracy (80 years)

Emanuel Richardson, a/k/a "Book"
44
Tucson, AZ
Bribery conspiracy, Solicitation of bribes, Honest services fraud conspiracy, Honest services fraud,

Conspiracy to commit wire fraud; Travel Act conspiracy (80 years)

Anthony Bland, a/k/a "Tony"
37
Los Angeles, CA
Bribery conspiracy, Solicitation of bribes, Honest services fraud conspiracy, Honest services fraud,

Conspiracy to commit wire fraud; Travel Act conspiracy (80 years)

Christian Dawkins
24
Atlanta, GA
Bribery conspiracy, Payments of bribes, Honest services fraud conspiracy, Honest services fraud (3 counts), Wire fraud conspiracy (2 counts), Wire fraud (2 counts), Travel Act conspiracy, Money laundering conspiracy (200 years)
Munish Sood
45
Trenton, NJ
Bribery conspiracy, Payments of bribes, Honest services fraud conspiracy, Honest services fraud (3 counts), Wire fraud conspiracy (2 counts), Wire fraud (2 counts), Travel Act conspiracy, Money laundering conspiracy (200 years)
James Gatto, a/k/a "Jim"
47
Wilsonville, OR
Wire fraud conspiracy, Wire fraud (2 counts), Money laundering conspiracy (80 years)
Merl Code
43
Greer, SC
Wire fraud conspiracy, Wire fraud (2 counts), Money laundering conspiracy (80 years)
Jonathan Brad Augustine
32
Winter Garden, FL
Wire fraud conspiracy, Wire fraud (2 counts), Money laundering conspiracy (80 years)